Series 251/253/254 Welded Chamber Level Control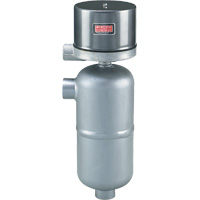 External Mount Pressure to 1250 psig (86 bar), Hermetically Sealed Switches, Temperature to 750°F (400°C), Explosion-Proof Housings
The Mercoid Series 251 offers a time proven magnetic head leak proof construction combines with a heavy duty welded chamber to provide excellent reliability for control of compatible liquids. Operating pressures of 1250 psig (86 bar) at 650°F (345°C) and 750 psig (52 bar) at 750°F (400°C) are standard. The use of an external magnet reduces the possibility of magnetic particle build up inside the armature tube and subsequent loss of operation as may occur with the internal magnet repulsion design. The controls feature carbon steel bodies and stainless steel internal trim. Process mounting configurations include either side/bottom combination 1″ NPT/socket weld hubs, side/bottom flanges or side/side flanges. A variety of hermetically sealed snap action or mercury switches are available in SPST, SPDT, or DPDT action for single or two stage operation. Mercury or Gold alloy snap action contacts are suitable for low current DC applications. A full range of switch enclosures are offered. Many chamber, enclosure and switch combinations are UL approved.
Mercoid Series 251 Specifications
C1-75:Minimum specific gravity 0.75. Process pressure 1250 psig (86 bar) at 100°F (38°C), to 650°F (345°C). 750 psig (52 bar) at 750°F (400°C).*
*Heat fins and/or high temperature switches should be considered for process temperatures above 500°F (260°C).Switch Types:Snap action or mercury.Electrical Rating:See Model Chart.Wiring Connections:G, WT or E enclosure, terminal block. EV enclosure 189 (460 mm) leads.Process Connections:Combination 1″ NPT/socket weld hubs or flanges. See model chart.Wetted Parts:C1 construction, carbon steel, 303SS, 304SS, 316SS, 430SS. (Optional 316SS with 430SS).Enclosures:G painted steel and aluminum. WT, painted steel, aluminum and neoprene. E, aluminum. EV, aluminum, neoprene.Weight:251: 40 lb (18 kg); 253: 50 lb (22.7 kg); 254: 57 lb (25.8 kg).
Download