Series 500 Insertion Type Level Control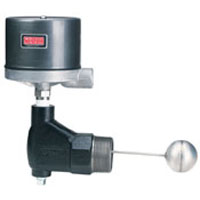 Adjustable Deadband, Weatherproof Enclosure
Adjustable deadband combined with direct 2-1/2″ threaded or 2-1/2″ flange mount makes the reliable, heavy duty Mercoid Series 500 ideal for liquid level control in large or small tanks. Chambers are available in cast iron, cast steel or cast 316 stainless steel to meet the most demanding application. Float rods are available from the standard 6″ (152.4 mm) up to 24″ (610 mm) long providing action down to a specific gravity of 0.55. 2-1/2″ (64 mm) float is suitable for pressure of 400 psig (28 bar), 2-1/2″ x 4″ (64 x 102 mm) float is suitable for 200 psig (14 bar). Maximum operating temperature is 425°F (218°C). A variety of circuits can be ordered including SPST, SPDT or DPDT with hermetically sealed snap action or mercury contacts. Single pole, double throw electrically independent circuits are available as well as contact for high or low DC current applications. A full range of enclosures are available such as general purpose, weatherproof, explosion-proof or explosion-proof/vapor proof.
Mercoid Series 500 Specifications
Service:Compatible liquids. Cast iron is not for use with lethal or flammable substances either liquid or gaseous.
Wetted Materials: Body: Cast iron, cast steel, or 316 SS; Float and Trim: 316 SS.
Temperature Limit: 425°F (218°C).
Pressure Limit: 400 psig (27.6 bar).
Enclosure Rating: NEMA 4X. Optional general purpose or explosion-proof.
Electrical Rating:Snap Switch: 12A @ 120 VAC, 5A @ 240 VAC, 0.5A @ 125 VDC resistive, 0.25A @ 250 VDC resistive. Mercury Switch: 4A @ 120 VAC/DC, 2A @ 240 VAC/DC. Higher contact ratings available for the mercury switch.
Electrical Connections: Screw terminal.
Conduit Connection: 3/4″ female NPT.
Process Connection: 2-1/2″ male NPT. Optional 2-1/2″ flange.
Mounting Orientation: Vertical.
Set Point Adjustment: At minimum deadband setting the set point is adjustable approximately ±1/2″ (12.7 mm).
Weight:3 5 lb (15.9 kg).
Agency Approvals:UL.
Deadband: Adjustable between 0.5″ (12.7 mm) to 3″ (76.2 mm).
Specific Gravity: 0.8 minimum. Optional 0.55 minimum.
Float and Rod Insertion Length: 6.5″ (165.1 mm). Optional 12″ (304.8 mm), 18″ (457.2 mm), or 24″ (609.6 mm) rod length. Longer float rods give larger adjustable deadband.
Download