Series 1261/1263/1264 Welded Chamber Level Control
External Mount, Pressure to 1750 psig (121 bar), and Temperature to 500°F (260°C)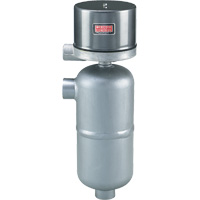 High pressure capability in a heavy duty welded carbon steel chamber provides a rugged heavy duty control to operate up to 1750 psi (121 bar) at 100°F (38°C), and 1650 psi (114 bar) at 500°F (260°C) with a minimum specific gravity of 0.60. Electrical enclosures are suited for general purpose NEMA 1, weatherproof NEMA 4X, explosion-proof or explosion-proof – vapor proof NEMA 7, 9 groups B, C, D, E, F, G, Division I and II requirements. Electrical requirements are met by use of hermetically sealed snap action or mercury switches in a variety of actions including SPST, SPDT, DPDT and DPST arrangements. Optional circuits are available for low current, low DC voltage, high DC current, or high temperature applications. Check the model chart for the switch best suited for your application.
Mercoid Series 1261 Specifications
C1-60: Minimum specific gravity 0.60. Process pressure 1750 psig (121 bar) at 100°F (38°C), 1650 psig (114 bar) at 500°F (260°C).
Switch Type: Snap switch or mercury. See Model Chart.Electrical Rating:
Electrical Rating: See Model Chart.
Wiring Connections: G, WT or E enclosure: terminal block; EV enclosure: 18″ (460 mm) leads.
Process Connections: Combination 1″ NPT/socket weld hubs or flanges. See Model Chart.
Enclosures: G: painted steel and aluminum; WT: painted steel, aluminum and neoprene; E: aluminum; EV: aluminum, neoprene.
Wetted Parts: C1 construction is carbon steel, 303SS, 304SS and 430SS.
Weight: 1261: 79 lb (36 kg); 1263: 89 lb (40 kg); 1264: 92 lb (42 kg).
Download