Series 1211/1213/1214 Flanged Chamber Level Control
External Mount, Pressure to 450 psig (31 bar), Temperature to 500°F (260°C)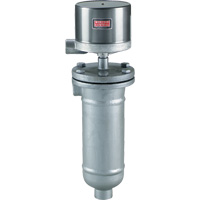 Low minimum specific gravity of 0.40 and rugged flanged chamber for inspection purposes helps insure superior long term performance with the Mercoid Series 1211. Control can be used at maximum process pressure of 450 psig (31 bar) at 100°F (38°C), and 300 psig (21 bar) at 500°F (260°C). Standard 1″ NPT connections are provided for mounting. 19 socket weld hubs or 1″ flanges are available as options. Hermetically sealed snap switch or mercury switches are provided in a variety of circuit configurations such as SPST, SPDT, or DPDT. High or low DC applications can also be accommodated. General purpose, weatherproof, explosion-proof, or explosion-proof – vapor proof enclosures are provided.
Mercoid Series 1211 Specifications
C1-40:Minimum specific gravity 0.40. Process pressure 450 psig (31 bar) at 100°F (38°C), 300 psig (21 bar) at 500°F (260°C).
Switch Type:Snap action or mercury; see Model Chart.
Electrical Rating:See Model Chart.
Wiring Connections:G, WT or E enclosure, terminal block. EV enclosure, 18″ (460 mm) leads.
Process Connections:1″ NPT or flanges. See model chart. (1″ socket weld-hubs optional).
Enclosures:G: painted steel and aluminum; WT: painted steel, aluminum and neoprene; E: aluminum; EV: aluminum, neoprene.
Wetted Parts:C1 construction. Chamber: carbon steel. Trim: 303SS, 304SS, and 430SS (316SS and 430SS optional).
Weight:1211: 34 lb (15.5 kg); 1213: 44 lb (20 kg); 1214: 47 lb (21.4 kg).
Download