Series DSGT Digital Indicating Transmitter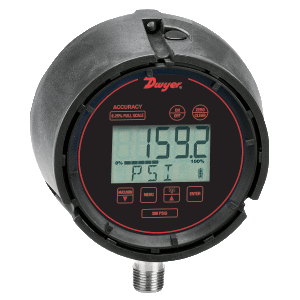 ±0.25% Full Scale Accuracy, Optional Switch Outputs
The Dwyer Series DSGT Digital Indicating Transmitter is a versatile multi-function process gage that features an excellent 0.25% full scale accuracy. This all-in-one digital gage package is designed to reduce installation costs, instrument cost, and save space where an application requires a gage, transmitter, and switches. The Series DSGT gage comes standards with a loop-powered 4-20 mA transmitter output and is offered with one or two optional SPDT switches.
The Series DSGT gage is housed in a durable fiberglass reinforced thermoplastic case that is designed to meet NEMA 4 (IP65) requirements. The gage features a menu-driven display for easy customization. User selectable features include 12 engineering units of measure, password protected calibration and disable functions, as well as an adjustable bar graph and update/dampening rates.
Dwyer Series DSGT Specifications
GAGE SPECIFICATIONS
Service:Compatible, non-combustible liquids & gases.
Wetted Materials:17 to 4 stainless steel sensor, 316 SS socket.
Housing Materials:Fiberglass reinforced thermoplastic case.
Accuracy:0.25% full-scale (includes linearity, hysteresis, repeatability).
Pressure Limit:2 x full-scale range.
Process Connection:1/2″ male NPT.
Display:5 digit (0.88″ high).
TRANSMITTER SPECIFICATIONS
Power Requirements:12-36 VDC (loop powered).
Memory Back Up Supply:(2) C alkaline batteries, installed functional, user replaceable.
Output Signal:4-20 mA.
Response Time:100 ms.
Temperature Limits:14 to 140ºF (-10 to 60ºC).
Thermal Effects:0.04% full-scale/°F.
Electrical Connections:3 ft flying leads.
Loop Resistance:DC; 0-1090 Ω max.
Set Point Adjustments:Adjustable through menu selections.
Weight:1.45 lb (.66 kg).
Agency Approvals:CE.
Available Models
No Switch Outputs
| MODEL | DESCRIPTION |
| --- | --- |
| DSGT-101-C0S | Digital indicating transmitter, range 30" Hg-0-15 psig. |
| DSGT-102-C0S | Digital indicating transmitter, range 30" Hg-0-30 psig. |
| DSGT-103-C0S | Digital indicating transmitter, range 30" Hg-0-60 psig. |
| DSGT-104-C0S | Digital indicating transmitter, range 0-30 psig. |
| DSGT-105-C0S | Digital indicating transmitter, range 0-60 psig. |
| DSGT-106-C0S | Digital indicating transmitter, range 0-100 psig. |
| DSGT-107-C0S | Digital indicating transmitter, range 0-160 psig. |
| DSGT-108-C0S | Digital indicating transmitter, range 0-200 psig. |
| DSGT-109-C0S | Digital indicating transmitter, range 0-300 psig. |
| DSGT-110-C0S | Digital indicating transmitter, range 0-600 psig. |
| DSGT-111-C0S | Digital indicating transmitter, range 0-800 psig. |
| DSGT-112-C0S | Digital indicating transmitter, range 0-1000 psig. |
| DSGT-113-C0S | Digital indicating transmitter, range 0-1500 psig. |
| DSGT-114-C0S | Digital indicating transmitter, range 0-2000 psig. |
| DSGT-115-C0S | Digital indicating transmitter, range 0-3000 psig. |
| DSGT-116-C0S | Digital indicating transmitter, range 0-5000 psig. |
| DSGT-117-C0S | Digital indicating transmitter, range 0-8000 psig. |
| DSGT-118-C0S | Digital indicating transmitter, range 0-10,000 psig. |
| DSGT-119-C0S | Digital indicating transmitter, range 0-15,000 psig. |
| DSGT-120-C0S | Digital indicating transmitter, range 0-20,000 psig. |
1 SPDT Switch Output
| MODEL | DESCRIPTION |
| --- | --- |
| DSGT-101-C1S | Digital indicating transmitter, range 30" Hg-0-15 psig. |
| DSGT-102-C1S | Digital indicating transmitter, range 30" Hg-0-30 psig. |
| DSGT-103-C1S | Digital indicating transmitter, range 30" Hg-0-60 psig. |
| DSGT-104-C1S | Digital indicating transmitter, range 0-30 psig. |
| DSGT-105-C1S | Digital indicating transmitter, range 0-60 psig. |
| DSGT-106-C1S | Digital indicating transmitter, range 0-100 psig. |
| DSGT-107-C1S | Digital indicating transmitter, range 0-160 psig. |
| DSGT-108-C1S | Digital indicating transmitter, range 0-200 psig. |
| DSGT-109-C1S | Digital indicating transmitter, range 0-300 psig. |
| DSGT-110-C1S | Digital indicating transmitter, range 0-600 psig. |
| DSGT-111-C1S | Digital indicating transmitter, range 0-800 psig. |
| DSGT-112-C1S | Digital indicating transmitter, range 0-1000 psig. |
| DSGT-113-C1S | Digital indicating transmitter, range 0-1500 psig. |
| DSGT-114-C1S | Digital indicating transmitter, range 0-2000 psig. |
| DSGT-115-C1S | Digital indicating transmitter, range 0-3000 psig. |
| DSGT-116-C1S | Digital indicating transmitter, range 0-5000 psig. |
| DSGT-117-C1S | Digital indicating transmitter, range 0-8000 psig. |
| DSGT-118-C1S | Digital indicating transmitter, range 0-10,000 psig. |
| DSGT-119-C1S | Digital indicating transmitter, range 0-15,000 psig. |
| DSGT-120-C1S | Digital indicating transmitter, range 0-20,000 psig. |
2 SPDT Switch Output
| MODEL | DESCRIPTION |
| --- | --- |
| DSGT-101-C2S | Digital indicating transmitter, range 30" Hg-0-15 psig. |
| DSGT-102-C2S | Digital indicating transmitter, range 30" Hg-0-30 psig. |
| DSGT-103-C2S | Digital indicating transmitter, range 30" Hg-0-60 psig. |
| DSGT-104-C2S | Digital indicating transmitter, range 0-30 psig. |
| DSGT-105-C2S | Digital indicating transmitter, range 0-60 psig. |
| DSGT-106-C2S | Digital indicating transmitter, range 0-100 psig. |
| DSGT-107-C2S | Digital indicating transmitter, range 0-160 psig. |
| DSGT-108-C2S | Digital indicating transmitter, range 0-200 psig. |
| DSGT-109-C2S | Digital indicating transmitter, range 0-300 psig. |
| DSGT-110-C2S | Digital indicating transmitter, range 0-600 psig. |
| DSGT-111-C2S | Digital indicating transmitter, range 0-800 psig. |
| DSGT-112-C2S | Digital indicating transmitter, range 0-1000 psig. |
| DSGT-113-C2S | Digital indicating transmitter, range 0-1500 psig. |
| DSGT-114-C2S | Digital indicating transmitter, range 0-2000 psig. |
| DSGT-115-C2S | Digital indicating transmitter, range 0-3000 psig. |
| DSGT-116-C2S | Digital indicating transmitter, range 0-5000 psig. |
| DSGT-117-C2S | Digital indicating transmitter, range 0-8000 psig. |
| DSGT-118-C2S | Digital indicating transmitter, range 0-10,000 psig. |
| DSGT-119-C2S | Digital indicating transmitter, range 0-15,000 psig. |
| DSGT-120-C2S | Digital indicating transmitter, range 0-20,000 psig. |