Series CS & CD Diaphragm Pressure Switch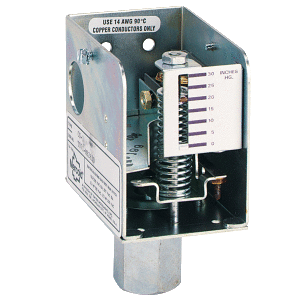 Visible Set Points, Fixed or Adjustable Deadband
The Mercoid Series CS and CD combine advanced design and precision construction in a small size. Unit is ideal for instrument panels, small compressors and general industrial applications. Visible set point and easy to wire SPDT snap switch reduce installation time. Operates in any position and is vibration resistant.
Mercoid Series CS & CD Specifications
Wetted Materials:Nylon reinforced Buna-N and steel.
Temperature Limits:-30 to 150°F (-35 to 66°C).
Pressure Limit:30 psig (2.1 bar) for ranges 1, 3, and 10. 50 psig (3.5 bar) for range 30. 175 psig (12.1 bar) for range 150.
Enclosure Rating:General purpose.
Switch Type: SPDT snap switch.
Electrical Rating:15 A @ 120 VAC, 8 A @ 240 VAC.
Electrical Connections:Screw terminal.
Conduit Connection:1/2″ hole for conduit hub.
Process Connection:1/4″ female NPT.
Mounting Orientation:Any position.
Set Point Adjustment:Internal screw.
Weight:.5 lb (0.23 kg).
Deadband: See Ordering page.
Available Models
Models with Fixed Deadband
| MODEL | DESCRIPTION |
| --- | --- |
| CS-1 | Low cost diaphragm pressure switch, adj. range 1-30" Hg Vac (25.4-762 mm Hg), deadband 1.5" Hg (38 mm Hg). |
| CS-10 | Low cost diaphragm pressure switch, adj. range 1-10 psig (.07-.69 bar), deadband 0.4 psig (0.03 bar). |
| CS-150 | Low cost diaphragm pressure switch, adj. range 10-150 psig (.69-10.3 bar), deadband 5 psig (0.35 bar). |
| CS-3 | Low cost diaphragm pressure switch, adj. range 1-100" w.c. (.25-24.9 kPa), deadband 7" w.c. (1.74 kPa). |
| CS-30 | Low cost diaphragm pressure switch, adj. range 1-30 psig (.07-2.1 bar), deadband 1.0 psig (0.07 bar). |
Models with Adjustable Deadband
| MODEL | DESCRIPTION |
| --- | --- |
| CD-10 | Low cost diaphragm pressure switch, adj. range 1-10 psig (.07-.69 bar), min. deadband 1.5 psig (.1 bar), max. deadband 11.5 psig (.79 bar). |
| CD-150 | Low cost diaphragm pressure switch, adj. range 10-150 psig (.69-10.3 bar), min. deadband 14 psig (.97 bar), max. deadband 24 psig (1.7 bar). |
| CD-30 | Low cost diaphragm pressure switch, adj. range 1-30 psig (.07-2.1 bar), min. deadband 2 psig (.14 bar), max. deadband 12 psig (.83 bar). |