Series V6 Flotect Flow Switch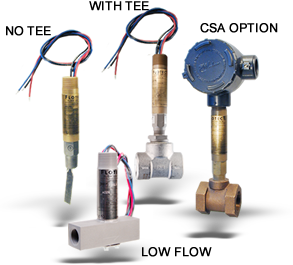 Monitor flow in 1/2″ to 2″ pipe, Explosion-proof
Surprisingly compact, the Series V6 Flotect Flow Switch is engineered to specifically monitor liquid, gas, or air flows. Operation is simple and dependable with no mechanical linkage as the flow switch is magnetically actuated. The lower body holds the flow vane and one magnet, which controls the switch actuating magnet in the separate upper housing. In most applications the switch is normally off with the pipeline flow forcing the vane against the vane spring. As the flow decreases the vane spring pushes back the vane, actuating the switch to signal an alarm or shutdown. Tees are available for installation in pipelines from 1/2″ to 2″, with bushings added the unit is easily adapted to 1/4″ and 3/8″ piping.
Typical Uses for the Flotect Series V6 Include
Protects pumps, motors and other equipment against low or no flow
Controls sequential operation of pumps
Automatically starts auxiliary pumps and engines
Stops liquid cooled engines, machines and processing when coolant flow is interrupted
Shuts down burner when air flow through heating coil fails
Controls dampers according to flow
Signals alarm when emergency shower in use
Series V6 Flotect Flow Switch Specifications
Service: Gases or liquids compatible with wetted materials.
Wetted Materials: Standard V6 Models: Vane: 301 SS; Lower Body: brass or 303 SS; Magnet: ceramic; Other: 301, 302 SS; Tee: brass, iron, forged steel, or 304 SS. V6 Low Flow Models: Lower Body: brass or 303 SS; Tee: brass or 304 SS; Magnet: ceramic; O-ring: Buna-N standard, Viton® optional; Other: 301, 302 SS.
Temperature Limits: -4 to 220°F (-20 to 105°C) standard, MT high temperature option 400°F (205°C) [MT not UL, CSA or ATEX]. ATEX compliant AT option ambient temperature: -4 to 167°F (-20 to 75°C), process temperature: -4 to 220°F (-20 to 105°C).
Pressure Limit: Brass lower body with no tee models 1000 psig (69 bar), 303 SS lower body with no tee models 2000 psig (138 bar). Brass tee models 250 psi (17.2 bar), iron tee models 1000 psi (69 bar), forged and stainless steel tee models 2000 psi (138 bar), low flow models 1450 psi (100 bar).
Enclosure Rating: Weatherproof and Explosion-proof. Listed with UL and CSA for Class I, Groups A, B, C and D; Class II, Groups E, F, and G. (Group A on stainless steel body models only). ATEX 0344 II 2 G EEx d IIC T6 Process Temp≤75°C, EC-Type Certificate No.: KEMA 04ATEX2128.
Switch Type: SPDT snap switch standard, DPDT snap switch optional.
Electrical Rating: UL models: 5A @ 125/250 VAC. CSA and ATEX models: 5A @ 125/250 VAC; 5A res., 3A ind. @ 30 VDC. MV option: .1A @ 125 VAC. MT option: 5A @125/250 VAC. [MT option not UL, CSA or ATEX].
Electrical Connections: UL models: 18 AWG, 18″ (460 mm) long. CSA models: terminal block.
Upper Body: Brass or 303 stainless steel.
Conduit Connections: 3/4″ male NPT standard, 3/4″ female NPT on junction box models.
Process Connection: 1/2″ male NPT on models without a tee.
Mounting Orientation: Switch can be installed in any position but the actuation/deactuation flow rates in the charts are based on horizontal pipe runs and are nominal values.
Set Point Adjustment: Standard V6 models none. Without tee models vane is trimmable. Low flow models are field adjustable in the range shown. See set point charts on opposite page.
Weight: 2 to 6 lb (.9 to 2.7 kg) depending on construction.
Options not Shown: Custom calibration, bushings, PVC tee, reinforced vane.
Agency Approvals: UL, CSA, CE and ATEX.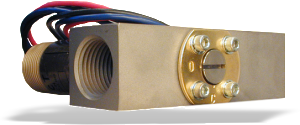 Low Flow Version
The Low Flow V6, like the standard model, features a leak-proof solid brass low housing and magnetically actuated snap switch. The machined tee is available in brass or stainless steel with all wetted parts of like materials and Buna-N or optional Viton O-Rings. The actuating mechanism is a plunger opposing a spring with an adjustable bypass valve to set the actuation rate. Piping connections are 1/2″ female NPT for in-line mounting. Units are explosion-proof and rated to 1450 psig (100 bar). UL, CSA and ATEX listings match standard V6. Weight is 1-1/2 lbs.
Available Models
Brass Construction - SPDT Switch
| MODEL | UPPER/LOWER BODY | TEE | SIZE | SWITCH |
| --- | --- | --- | --- | --- |
| V6EPB-B-S-1-B | Brass | Brass | 1/2" NPT | SPDT |
| V6EPB-B-S-2-B | Brass | Brass | 3/4" NPT | SPDT |
| V6EPB-B-S-3-B | Brass | Brass | 1" NPT | SPDT |
| V6EPB-B-S-4-B | Brass | Brass | 1-1/4" NPT | SPDT |
| V6EPB-B-S-5-B | Brass | Brass | 1-1/2" NPT | SPDT |
| V6EPB-B-S-6-B | Brass | Brass | 2" NPT | SPDT |
| V6EPB-B-S-6-0 | Brass | Brass | No Tee | SPDT |
| V6EPB-B-S-LF | Brass | Brass | 1/2" NPT | SPDT |
Brass Construction - DPDT Switch
| MODEL | UPPER/LOWER BODY | TEE | SIZE | SWITCH |
| --- | --- | --- | --- | --- |
| V6EPB-B-D-1-B | Brass | Brass | 1/2" NPT | DPDT |
| V6EPB-B-D-2-B | Brass | Brass | 3/4" NPT | DPDT |
| V6EPB-B-D-3-B | Brass | Brass | 1" NPT | DPDT |
| V6EPB-B-D-4-B | Brass | Brass | 1-1/4" NPT | DPDT |
| V6EPB-B-D-5-B | Brass | Brass | 1-1/2" NPT | DPDT |
| V6EPB-B-D-6-B | Brass | Brass | 2" NPT | DPDT |
| V6EPB-B-D-6-0 | Brass | Brass | No Tee | DPDT |
| V6EPB-B-D-LF | Brass | Brass | 1/2" NPT | DPDT |
Brass Upper & Lower with Iron Tee - SPDT Switch
| MODEL | UPPER/LOWER BODY | TEE | SIZE | SWITCH |
| --- | --- | --- | --- | --- |
| V6EPB-B-S-1-MI | Brass | Iron | 1/2" NPT | SPDT |
| V6EPB-B-S-2-MI | Brass | Iron | 3/4" NPT | SPDT |
| V6EPB-B-S-3-MI | Brass | Iron | 1" NPT | SPDT |
| V6EPB-B-S-4-MI | Brass | Iron | 1-1/4" NPT | SPDT |
| V6EPB-B-S-5-MI | Brass | Iron | 1-1/2" NPT | SPDT |
| V6EPB-B-S-6-MI | Brass | Iron | 2" NPT | SPDT |
Iron Upper & Lower with Iron Tee - DPDT Switch
| MODEL | UPPER/LOWER BODY | TEE | SIZE | SWITCH |
| --- | --- | --- | --- | --- |
| V6EPB-B-D-1-MI | Brass | Iron | 1/2" NPT | DPDT |
| V6EPB-B-D-2-MI | Brass | Iron | 3/4" NPT | DPDT |
| V6EPB-B-D-3-MI | Brass | Iron | 1" NPT | DPDT |
| V6EPB-B-D-4-MI | Brass | Iron | 1-1/4" NPT | DPDT |
| V6EPB-B-D-5-MI | Brass | Iron | 1-1/2" NPT | DPDT |
| V6EPB-B-D-6-MI | Brass | Iron | 2" NPT | DPDT |
Stainless Construction - SPDT Switch
| MODEL | UPPER/LOWER BODY | TEE | SIZE | SWITCH |
| --- | --- | --- | --- | --- |
| V6EPS-S-S-1-S | Stainless steel | Stainless steel | 1/2" NPT | SPDT |
| V6EPS-S-S-2-S | Stainless steel | Stainless steel | 3/4" NPT | SPDT |
| V6EPS-S-S-3-S | Stainless steel | Stainless steel | 1" NPT | SPDT |
| V6EPS-S-S-4-S | Stainless steel | Stainless steel | 1-1/4" NPT | SPDT |
| V6EPS-S-S-5-S | Stainless steel | Stainless steel | 1-1/2" NPT | SPDT |
| V6EPS-S-S-6-S | Stainless steel | Stainless steel | 2" NPT | SPDT |
| V6EPS-S-S-6-0 | Stainless steel | Stainless steel | No Tee | SPDT |
| V6EPS-S-S-LF | Stainless steel | Stainless steel | 1/2" NPT | SPDT |
Stainless Construction - DPDT Switch
| MODEL | UPPER/LOWER BODY | TEE | SIZE | SWITCH |
| --- | --- | --- | --- | --- |
| V6EPS-S-D-1-S | Stainless steel | Stainless steel | 1/2" NPT | DPDT |
| V6EPS-S-D-2-S | Stainless steel | Stainless steel | 3/4" NPT | DPDT |
| V6EPS-S-D-3-S | Stainless steel | Stainless steel | 1" NPT | DPDT |
| V6EPS-S-D-4-S | Stainless steel | Stainless steel | 1-1/4" NPT | DPDT |
| V6EPS-S-D-5-S | Stainless steel | Stainless steel | 1-1/2" NPT | DPDT |
| V6EPS-S-D-6-S | Stainless steel | Stainless steel | 2" NPT | DPDT |
| V6EPS-S-D-6-0 | Stainless steel | Stainless steel | No Tee | DPDT |
| V6EPS-S-D-LF | Stainless steel | Stainless steel | 1/2" NPT | DPDT |
Available Downloads