Series 215/217/218 Flanged Chamber Level Control
Adjustable Deadband 12″ to 24″, Pressure to 450 psig (31 bar), Temperature to 500°F (260°C)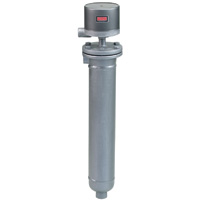 Adjustable deadband, flanged chamber and side mount are featured in the heavy duty reliable Mercoid Series 215. A choice of four operating styles are offered: 1. Single stage adjustable deadband suitable for pump operation; 2. Two stage operation with adjustable lower stage, fixed upper stage for pump and high alarm; 3. Fixed lower stage and adjustable upper stage for pump and low alarm; 4. Fixed upper and lower stage for high and low alarm. Alarm stages can also be used for shutdown. Adjustable level changes are available in increments of 12″, 24″, 36″, or 48″.
Mercoid Series 215 Specifications
Minimum Specific Gravity:0.60.
Switch Type:Snap action or mercury. See Model Chart.
Electrical Ratings:See Model Chart.
Wiring Connections:G, WT or E enclosure, terminal block. EV enclosure, 18″ (460 mm) leads.
Process Connections:1″ NPT standard (1″ socket weld hubs or flanges optional).
Enclosures:G: painted steel and aluminum; WT: painted steel, aluminum, neoprene; E: aluminum; EV: aluminum and neoprene.
Wetted Parts:C1 construction. Chamber, carbon steel. Float and trim 303SS, 304SS, 430SS.
Weight:215: 50 lb (22.7 kg); 217: 60 lb (27 kg); 218: 67 lb (30.4 kg).
Download