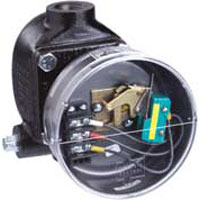 Series 123/125 Boiler Water Level Control
Heavy Duty, Cast Iron Chamber
Designed for boiler applications, the MERCOID SERIES 123 is primarily used for low water cut-off or feed-water control. Other applications include condensate tanks and deaerators. A special snap action switch mechanism eliminates frequent operation due to surging water level. A transparent cover provides convenient visible operation of the switch. Features a flanged chamber for easy clean out and replacement of float or switch mechanism without removing the unit from piping. The 125 offers the same long lasting service with a direct action mercury switch movement that provides a close deadband where needed.
SPECIFICATIONS
Service: Compatible liquids. Cast iron is not for use with lethal or flammable substances either liquid or gaseous.
Wetted Materials: Body: cast iron. Float and Trim: 304 SS. Packing Gland: brass. Packing: carbon. Body Gasket: carbon.
Temperature Limit: 365°F (185°C).
Pressure Limit: 150 psig (10.34 bar).
Enclosure Rating: General purpose. Optional weatherproof.
Switch Type: SPDT snap switch or mercury switch. Optional DPDT or two stage.
Electrical Rating: Snap Switch: 15A @ 120/240/480 VAC, 0.5A @ 120 VDC resistive, 0.25A @ 240 VDC resistive. Mercury Switch: 4A @ 120 VAC/DC, 2A @ 240 VAC/DC.
Electrical Connections: Screw terminal.
Conduit Connection: 7/8″ (22.23 mm) hole for 1/2″ (12.7 mm) conduit.
Process Connections: 1″ female NPT.
Mounting Orientation: Vertical.
Weight: 20 lb (9.1 kg).
Agency Approvals: UL and CSA (snap switch is not rated).
Deadband: Approximately 1-1/2″ (38.1 mm).
Specific Gravity: 0.88 minimum.
Options: Manual reset.
| MODEL | DESCRIPTION |
| --- | --- |
| 123-153 | Water level control, cast iron chamber, SPDT mercury switch. |
| 123-2 | Water level control, cast iron chamber, SPST mercury switch, closes on increase. |
| 123-3 | Water level control, cast iron chamber, SPST mercury switch, opens on increase. |
| 123-7000-153 | Water level control, cast iron chamber, SPDT snap switch. |
| 123-804 | Water level control, cast iron chamber, DPDT (2 SPDT) mercury switches. |
| 125-4820 | Water level control, cast iron chamber, SPST mercury switch, closes on decrease. |
| 125-4821 | Water level control, cast iron chamber, SPST mercury switch, opens on decrease. |