Series 401 Top Mount Float Type Level Control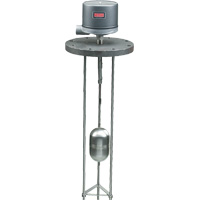 Single or Two Stage for Pump or Alarm, Depth to 12′, Specific Gravity to 0.50
The heavy duty Mercoid Series 401 top-mounted liquid level controls operate in pressurized or non-pressurized tanks and sumps with pressures to 600 psi and temperatures to 500°F. They can be ordered to operate at depths to 12 feet with a 12 foot guide rod. Adjustable in single stage and two stage operation to provide action such as operating a pump; pump and high alarm or shutdown; pump and low alarm, or high and low alarm; or high, high alarm; or low, low alarm. Alarm functions can also be used as shutdowns. Series 401 is available in mercury or snap action contact switches. Specific gravity applications from 0.5 to 1.0.
Mercoid Series 401 Specifications
Minimum Specific Gravity:See Dimensional Drawing.
Temperature Rating:-0°F (-9°C) to 500°F (260°C).
Switch Type:Snap action or mercury.
Electrical Rating:See Model Chart.
Wiring Connections:G, WT or E enclosure, terminal block. EV enclosure, 18″ (460 mm) leads.
Process Connection:Top mount flange.
Enclosures:G, painted steel and aluminum; WT, painted steel, aluminum and neoprene; E, aluminum; EV, aluminum and neoprene.
Wetted Parts:See Dimensional Drawing and Model Chart.
Weights:Electrical head and float assembly only: G, WT 10 lb (4.5 kg); E, EV 14 lb (6.3 kg). Flange only: 49, 17 lb (7.7 kg); 59, 20 lb (9 kg); 69, 27 lb (12.3 kg); 89, 47 lb (21.3 kg). Guide rods assembly: 4 ft (1.2 m), 14 lb (6.4 kg); 8 ft (2.4 m), 28 lb (12.7 kg); 12 ft (3.6 m), 42 lb (19 kg).
Download