Series 291/293/294 Welded Chamber Level Control
Single Stage, Low Cost, Hermetically Sealed Snap Switches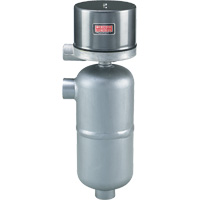 Inexpensive yet rugged construction in a welded chamber control. The Mercoid Series 291 is specifically designed for single stage operation where pressure does not exceed 350 psig (24 bar) at 100°F (38°C) or 300 psig (21 bar) at 600°F (315°C) available with a variety of hermetically sealed snap switch or mercury switch circuits protected by a general purpose, weatherproof or explosion-proof enclosure and will accommodate specific gravities down to 0.60.
Mercoid Series 291 Specifications
C1-60:Minimum specific gravity. Process pressure 350 psig (24 bar) at 100°F (38°C), 300 psig (21 bar) at 600°F (315°C).
Switch Type:Snap action or mercury. See Model Chart.
Electrical Rating:See Model Chart.
Wiring Connections:G, WT or E enclosure, terminal block. EV enclosure 18″ (460 mm) leads.
Process Connection:1″ NPT (socket weld hubs or flanged optional).
Enclosures:G: painted steel and aluminum; WT: painted steel, aluminum and neoprene; E: aluminum; EV: aluminum and neoprene.
Wetted Parts:C1 construction, carbon steel, 303SS, 304SS, 430SS.
Weight:291: 10 lb (4.5 kg); 293: 15 lb (6.8 kg); 294: 17 lb (7.7 kg).
Download