Series 3100D Explosion-proof Differential Pressure Transmitter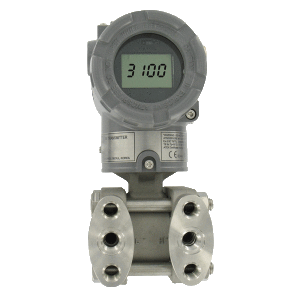 HART® Communication, Push Button Configuration, Rangeability (100:1)
The Mercoid Series 3100 D Smart Pressure Transmitter is a microprocessor-based high performance transmitter, which has flexible pressure calibration, push button configuration, and programmable using HART® Communication. The Series 3100D is capable of being configured for differential pressure or level applications with the zero and span buttons. A field calibrator is not required for configuration. The transmitter software compensates for thermal effects, improving performance. EEPROM stores configuration settings and stores sensor correction coefficients in the event of shutdowns or power loss. The Series 3100D is FM or ATEX approved for use in hazardous (classified) locations. The 100:1 rangeability allows the smart transmitter to be configured to fit any application.
Specifications
Service: Compatible gases, steam, liquids or vapors.
Wetted Materials: 316L SS.
Accuracy: ±0.075% FS (@ 20°C).
Rangeability: 100:1 turn down.
Stability: ±0.125% FSO/yr.
Temperature Limits: Process: -40 to 248°F (-40 to 120°C); Ambient (without LCD): -40 to 185°F (-40 to 85°C); Ambient (with LCD): -22 to 176°F (-30 to 80°C).
Pressure Limits: Max. pressure: Range: -14.5 to 2000 psi; Burst pressure: 10000 psi.
Thermal Effect: ±0.125% span/32°C.
Power Requirements: 11.9 to 45 VDC.
Output Signal: 4 to 20 mA/HART® Communication.
Response Time: 0.12 seconds.
Damping Time: 0.25-60 seconds.
Loop Resistance: Operation: 0 to 1500 Ohm; HART® Communication: 250 to 500 Ohm.
Electrical Connection: Two 1/2″ female NPT conduit, screw terminal.
Process Connection: 1/4″ female NPT.
Display: Optional 5 digit LCD.
Enclosure Rating: NEMA 4X (IP66) and explosion-proof for Class I, Div I, Groups A, B, C and D.Weight:8.6 lb (3.9 kg).
Agency Approvals: CE, FM, ATEX option available (consult factory).
Features
Configurable using zero/span buttons (no calibrator required)
Rangeability (100:1)
High accuracy (±0.075%)
Automatic ambient temperature compensation
Fail-mode process function
Selectable engineering units
Available Models
Models with LCD Display
| MODEL | DESCRIPTION |
| --- | --- |
| 3100D-1-FM-1-1-LCD | Smart differential pressure transmitter, range 0-6" w.c. |
| 3100D-2-FM-1-1-LCD | Smart differential pressure transmitter, range 0-30" w.c. |
| 3100D-3-FM-1-1-LCD | Smart differential pressure transmitter, range 0-150" w.c. |
| 3100D-4-FM-1-1-LCD | Smart differential pressure transmitter, range 0-750" w.c. |
| 3100D-5-FM-1-1-LCD | Smart differential pressure transmitter, range 0-100 psi. |
| 3100D-6-FM-1-1-LCD | Smart differential pressure transmitter, range 0-300 psi. |
| 3100D-7-FM-1-1-LCD | Smart differential pressure transmitter, range 0-1000 psi. |
Models without LCD Display
| MODEL | DESCRIPTION |
| --- | --- |
| 3100D-1-FM-1-1 | Smart differential pressure transmitter, range 0-6" w.c. |
| 3100D-2-FM-1-1 | Smart differential pressure transmitter, range 0-30" w.c. |
| 3100D-3-FM-1-1 | Smart differential pressure transmitter, range 0-150" w.c. |
| 3100D-4-FM-1-1 | Smart differential pressure transmitter, range 0-750" w.c. |
| 3100D-5-FM-1-1 | Smart differential pressure transmitter, range 0-100 psi. |
| 3100D-6-FM-1-1 | Smart differential pressure transmitter, range 0-300 psi. |
| 3100D-7-FM-1-1 | Smart differential pressure transmitter, range 0-1000 psi. |
Accessories
P/N A-630 316SS angle bracket with bolts.
P/N A-631 316SS flat bracket with bolts.
P/N BBV-IF Flanged 3-valve block manifold.
P/N BBV-22F Flanged 5-valve manifold with top mounted vent valves.
P/N DevComm2000 HART® Communicator Software