Dwyer Series A4 Differential Pressure Switch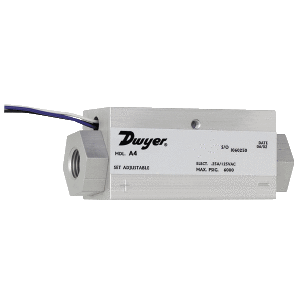 Adjustable Set Point, High Overpressure
Rugged Dwyer Series A4 Differential Pressure Switch offers field adjustments and can handle system pressures up to 6000 psig. Piston design allows mounting in any orientation. The switch is capable of carrying moderate shock and vibratory loads.
Series A4 Specifications
Service: Compatible gases.
Wetted Materials: Body, piston, and fittings: anodized aluminum; spring: steel.
Temperature Limits: -65 to 225°F (-54 to 107°C).
Pressure Limits: 2000 psid (138 bar).
Repeatability: See Ordering page.
Switch Type: SPDT.
Electrical Rating:AC: 3 VA, 0.25A @ 120 VAC; 5 VA, 0.25A @ 175 VDC.
Electrical Connection: 24 AWG X 12″ (30.5 cm) wire leads.
Process Connection: 1/4″ female NPT.
Mounting Orientation: Any.
Set Point Adjustment: See Ordering page.
Weight: 8.5 oz (241 g).
Agency Approvals: CE.
Popular A4 Models
| MODEL | DESCRIPTION |
| --- | --- |
| A4-1 | Differential pressure switch, ±2 psi (.14 bar) repeatability, set point (increasing) 7-13 psid (.48-.89 bar), set point (decreasing) 2-7 psid (.14-.48 bar). |
| A4-2 | Differential pressure switch, ±4 psi (.28 bar) repeatability, set point (increasing) 13-25 psid (.89-1.7 bar), set point (decreasing) 5-16 psid (.34-1.1 bar). |
| A4-3 | Differential pressure switch, ±8 psi (.55 bar) repeatability, set point (increasing) 25-45 psid (1.7-3.1 bar), set point (decreasing) 10-21 psid (.68-1.5 bar). |
| A4-4 | Differential pressure switch, ±16 psi (1.1 bar) repeatability, set point (increasing) 35-160 psid (2.4-11.0 bar), set point (decreasing) 20-80 psid (1.4-5.5 bar). |
| A4-5 | Differential pressure switch, ±32 psi (2.2 bar) repeatability, set point (increasing) 120-250 psid (8.3-17.2 bar), set point (decreasing) 35-120 psid (2.4-8.3 bar). |