Flotect Series V10 Flow Switch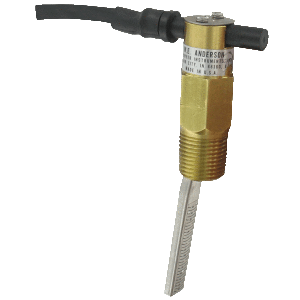 Proof of Flow or No Flow in 1/2″ to 2″ Pipe, Low Cost, Leak Proof Body, Weatherproof
The Flotect Series V10 Flow Switch is designed to provide an inexpensive, reliable unit to monitor the presence or absence of flow in a system. The V10 flow switch is used to monitor unattended equipment and protect it from costly damage. The V10 flow switch utilizes a rugged, hermetically sealed reed switch which is encapsulated in a polypropylene switch housing that fits into a standard heavy duty leak proof brass body or optional 303 Stainless Steel body. The switch adjustment allows the user to change the switch to Normally Open (NO) or Normally Closed (NC) in the field merely by loosening two screws. The switch housing is located outside the process media, making switch change-over or maintenance easy without interruption of process flow.
A full size, trimmable stainless steel vane is provided with a removable laminated template. This template is calibrated for brass or ductile iron reducing tees and forged steel straight tee/bushing combinations. Allows for field installation in pipelines from 1/2″ to 2″ diameter.
Perfect for proving flow in boilers, hot water heaters, and chillers.
SPECIFICATIONS
Service:Compatible gases or liquids.
Wetted Material:Vane: 301 SS; Body: Brass or 303 SS; Pin and Spring: 301 SS, 302 SS, and 316 SS; Magnet: Ceramic 8.
Temperature Limit:200°F (93°C).
Pressure Limit:Brass body: 1000 psig (69 bar), 303 SS body: 2000 psig (138 bar).
Switch Type:SPST hermetically sealed reed switch. Field adjustable for normally open or normally closed.
Electrical Rating:0.5 A @ 120 VAC; 1.5 A @ 24 VDC res.; 0.001 A @ 200 VDC res.
Electrical Connections:18 AWG, 19″ (483 mm) long, PVC jacket. Rated 221°F (105°C).
Process Connection:1/2″ male NPT standard. Contact factory for other options.
Mounting Orientation:Switch can be installed in any position but the actuation/deactuation flow rates are based on horizontal pipe runs and are nominal values.
Set Point Adjustment:Vane is trimmable.
Weight:5.5 oz (0.16 kg).
Agency Approvals:CE, CSA, UR.Switch Enclosure:Nylon.
Enclosure Rating:Weatherproof, meets NEMA 4X (IP66).
| MODEL | DESCRIPTION |
| --- | --- |
| V10 | Mini-size flow switch, brass, normally open or closed. |
| V10SS | Mini-size flow switch, 303 SS, normally open or closed. |