Series DL7 Differential Pressure Data Logger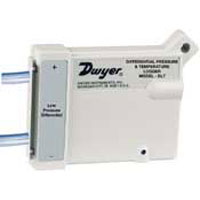 Also Measures and Logs Temperature, Self-Powered, 2-Channel, Compact
Monitor and Record low differential pressures and temperature with the Dwyer Series DL7 Differential Pressure Data Logger. Unit includes an onboard thermistor for ambient temperature measurement. Sampling rates are user selectable from 0.04 seconds to 8 hours with First-in first-out or Fill-then-stop sampling options. Loggers can store up to 21,500 readings and operate totally independently from any external power supply with built-in lithium battery. Use Model DL200 Windows® software (sold separately) to quickly program the logger or upload data to a computer. The series DL7 logger is ideal for monitoring air duct velocity, testing and balancing HVAC systems, or verifying room pressure.
Specifications
No. of Channels:Two; internal thermistor, and a differential pressure sensor.
Internal Thermistor Range:-40 to 158°F (-40 to 70°C).
Compensated Temperature Range:32 to 158°F (0 to 70°C).
Memory Size:21,500 readings.
Accuracy:±0.05″ w.c. (up to 2″ range); ±0.1″ w.c. (5″ and 10″ range).
Thermal Accuracy:±0.5% FS.
Clock Accuracy:±2 sec/day plus one sampling interval.
Resolution:±0.01″ w.c.
Internal Thermistor Resolution:0.7°F (0.4°C), R25 value equal to 10,000Ω [10kΩ @ 25°C (77°F)].
Resolution:12 bits( 1 in 4096).
Nonlinearity:±0.05% FS (BFSL).Hysteresis and Repeatability:±0.05% FS.
Drift:±0.5% FS/yr.
Sampling Methods:Continuous (first-in, first-out: not available from 40 ms to 8 sec.), Stop when full (fill-then-stop), or delayed start.
Sampling Rates:Selectable from 0.04 seconds to 8 hours.
Ambient Operating Temperature/RH:-40 to 158°F (-40 to 70°C), 0 to 95% RH, non-condensing.
Connection:Two 1/8″ I.D. permanent protective tubing.
Computer Requirements:IBM compatible 386 or above and Windows® 3.1 or later with 2MB RAM and 2MB hard drive disk space, one serial port.
Service:Dry air and noncorrosive gases.
Max. Pressure Rating:4X rated pressure.
Power Requirement:3.6 V TL5134 lithium metal battery, internal, factory replaceable.
Power Consumption:5-10 µA.
Housing Material:PPE & PS (polyphenylene ether & polystyrene).
Weight:4 oz (110 g).
Agency Approvals:CE.