Series 102/1102 Flanged Chamber Type Level Control
Operating Pressures to 300 PSIG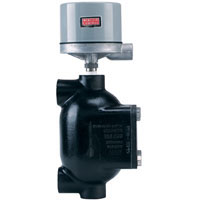 By unique design, you can remove just four bolts from the inspection plate to examine the float and chamber for cleaning or wear without disconnecting the piping or electrical circuitry. The sturdy Mercoid Series 102 operates at pressure to 400 psi (28 bar) and temperatures to 425°F (218°C). The 102 Series will operate to a minimum specific gravity of 0.60. The 1102 Series will operate to a specific gravity of 0.40 under the same operating pressure and temperature. The 102 and 1102 Series contain a stainless steel float and offer a choice of cast iron, cast steel, or inexpensive cast 316SS float chamber. These series are well suited for applications where ease of accessibility is desired for pressure or vacuum vessels. Electrical circuits using hermetically sealed snap action or mercury contacts are available in a variety of actions including SPST, SPDT, DPDT and DPST combinations. Optional circuits are available for low current, low voltage direct circuits; high direct current or high temperature applications. Electrical enclosures provide general purpose; weatherproof, explosion-proof or explosion-proof/vapor proof capability. The 102 design also features three 1″ NPT process connections for side/side or side/bottom piping. When using the side/side process connection, the bottom 1″ NPT connection can be used as a drain.
Mercoid Series 102 Specifications
Service: Compatible liquids. Cast iron is not for use with lethal or flammable substances either liquid or gaseous.
Wetted Materials: Body: Cast iron, optional cast steel or 316 SS; Float and Trim: 303 SS, 304 SS, 316 SS, and 430 SS, option of all 316 SS; Body Gasket: Carbon.
Temperature Limit: 425°F (218°C).
Pressure Limit: 300 psig (20.7 bar). Optional rating to 400 psig (27.6 bar).
Enclosure Rating: NEMA 4X. Optional general purpose or explosion-proof.
Repeatability: ±1/4″ (6.4 mm).
Switch Type: SPDT snap switch, hermetically sealed snap switch or mercury switch. Optional DPDT or two stage.
Electrical Rating:Snap Switch: 12A @ 120 VAC, 5A @ 240 VAC, 0.5A @ 125 VDC resistive, 0.25A @ 250 VDC resistive. Hermetically Sealed Snap Switch: 5A @ 125 VAC, 5A @ 240 VAC, 5A @ 30 VDC resistive. Mercury Switch: 4A @ 120 VAC/DC, 2A @ 240 VAC/DC. Higher contact ratings available for the mercury switch.
Electrical Connections: Screw terminal.
Conduit Connection: 3/4″ female NPT.
Process Connection: 1″ female NPT.
Mounting Orientation: Vertical.
Set Point Adjustment: ±1″ (25.4 mm).
Weight: 35 lb (15.9 kg).
Agency Approvals: UL.
Specific Gravity: 0.6 minimum for Series 102; 0.4 minimum for Series 1102.
Popular Mercoid Series 102 Models
Model 102-WT-4815-C-60 Flanged chamber type level control, SPDT mercury switch.
Model 102-WT-7810-C-60 Flanged chamber type level control, SPDT snap switch.
Download