Series 201/203/204 Side Mounted-Chamber Type Level Control
Operating Pressures to 500 psig, 34 bar, Hermetically Sealed Snap Switch Option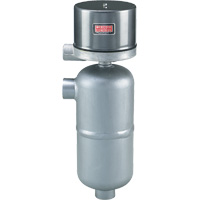 Long life and reliable operation is inherent in the design of the Mercoid Series 102. The heavy duty welded carbon steel chamber provides a control to operate up to 1000 psi (69 bar) and process temperature up to 750°F (400°C), 400°F (205°C) at the electrical head assembly. The use of an external magnet reduces the possibility of magnetic particle build up inside the armature tube and subsequent loss of operation as may occur with the internal magnet repulsion design. Choice of construction provides equipment suitable for specific gravity as low as (0.60). Electrical requirements are met by use of hermetically sealed snap action or mercury switches in a variety of actions including SPST, SPDT, DPDT and DPST arrangements. Optional circuits are available for low current/voltage DC; high current DC; or high temperature applications. Standard process connections are combination 1″ NPT and 1″ socket weld hubs. Flanged connections are offered as an option.
Mercoid Series 201 Specifications
Service: Compatible liquids.
Wetted Materials: Body: carbon steel. Optional 316 SS. Float and Trim: 303 SS, 304 SS, 316 SS, and 430 SS. Options of 316 SS and 430 SS or all 316 SS.
Temperature Limits: Process: 750°F (399°C). Heat fins should be used for process temperatures above 500°F (260°C) with mercury switches, 400°F (204°C) with snap switches, and 350°F (176.7°C) with hermetically sealed snap switches.Pressure Limit:600 psig (41 bar) at 100°F (37.7°C), 500 psig (34 bar) at 750°F (399°C). Higher ratings available.
Enclosure Rating: NEMA 4X. Optional general purpose or explosion-proof.
Repeatability:±1/4″ (6.4 mm).
Switch Type: SPDT snap switch, hermetically sealed snap switch or mercury switch. Optional DPDT or two stage.
Electrical Rating:Snap Switch: 12A @ 120 VAC, 5A @ 240 VAC, 0.5A @ 125 VDC resistive, 0.25A @ 250 VDC resistive. Hermetically Sealed Snap Switch: 5A @ 125 VAC, 5A @ 240 VAC, 5A @ 30 VDC resistive. Mercury Switch: 4A @ 120 VAC/DC, 2A @ 240 VAC/DC. Higher contact ratings available for the mercury switch.
Electrical Connections: Screw terminal.
Conduit Connection: 3/4″ female NPT.
Process Connections: 1″ female NPT and 1″ socket weld hub. Optional flange connections.
Mounting Orientation: Vertical.
Set Point Adjustment: ±1″ (25.4 mm).
Weight: 201: 33 lb (14.97 kg); 203: 37 lb (17 kg); 204: 44 lb (20 kg).
Agency Approvals: UL and CSA.
Specific Gravity: 0.6 minimum.
Popular Model
Model 201-WT-7810-C1-60 Chamber type level control, side mounted, SPDT snap switch.
Download