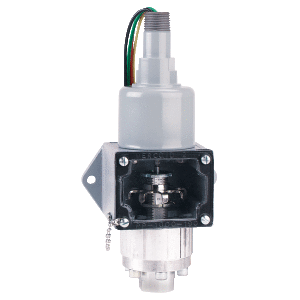 Series 1000E Explosion-Proof Diaphragm Operated Pressure Switch
Visible Setpoint, Fixed Deadband, Pressure Ranges to 1400 psi
The Mercoid Series 1000E uses the same rugged construction as used in the Mercoid Series 1000W plus explosion-proof design are combined in this new unit. UL listed for Class I, Groups A, B, C and D; Class II, Groups E, F and G. Bellville spring movement permits mounting of control in any position and helps prevent contact chatter. high over-pressure protection and vibration resistance are also featured.
Specifications
Wetted Materials: See pressure chamber and diaphragm material in model chart on Catalog Page.
Temperature Limits: -30 to 170°F (-35 to 77°C).
Pressure Limit: 3000 psig (206.8 bar).
Enclosure Rating:Explosion-proof, UL listed for Class I, Groups A, B, C and D; Class II, Groups E, F and G.
Switch Type: SPDT snap switch. Hermetically sealed optional.
Electrical Rating: 15A @ 125/250/480 VAC res., 0.5A @ 125 VDC, 0.25A @ 250 VDC.
Wiring Connections: 18 AWG, 18″ (460 mm) color-coded leads: NO (yellow), NC (black), and common (red).Conduit Connection: 1/2″ male NPT.
Process Connection: 1/4″ female NPT.
Mounting Orientation: Any position.
Set Point Adjustment: Internal thumbwheel.
Weight:3 lb (1.4 kg).
Deadband: See switch deadband in model chart on Catalog Page.
Agency Approvals: CE, UL.
Features
Weatherproof housing is ideal for a wide variety of applications where dust or water is present.
Spring movement design provides for control in any mounting position and prevents contact chatter reducing false or inconsistent switching.
UL listed to support rigorous process applications and regulations.
Popular Models
Aluminum Chamber - Polymide Diaphragm
| MODEL | DESCRIPTION |
| --- | --- |
| 1003E-A1-J | Explosion-proof pressure switch, adj. range 5-40 psig (.48-2.8 bar), approx. deadband (fixed) 2.5 psig (.17 bar). |
| 1004E-A1-J | Explosion-proof pressure switch, adj. range 10-70 psig (.69-4.8 bar), approx. deadband (fixed) 5 psig (.34 bar). |
| 1005E-A1-J | Explosion-proof pressure switch, adj. range 25-200 psig (1.7-13.8 bar), approx. deadband (fixed) 10 psig (.69 bar). |
| 1006E-A1-J | Explosion-proof pressure switch, adj. range 50-350 psig (3.5-24.1 bar), approx. deadband (fixed) 18 psig (1.2 bar). |
| 1007E-A1-J | Explosion-proof pressure switch, adj. range 75-550 psig (5.2-37.9 bar), approx. deadband (fixed) 36 psig (2.5 bar). |
| 1008E-A1-J | Explosion-proof pressure switch, adj. range 100-900 psig (6.9-62.1 bar), approx. deadband (fixed) 60 psig (4.1 bar). |
| 1009E-A1-J | Explosion-proof pressure switch, adj. range 200-1400 psig (13.8-96.5 bar), approx. deadband (fixed) 90 psig (6.2 bar). |
316SS Chamber & Diaphragm
| MODEL | DESCRIPTION |
| --- | --- |
| 1003E-B2-J | Explosion-proof pressure switch, adj. range 5-40 psig (.48-2.8 bar), approx. deadband (fixed) 2.5 psig (.17 bar). |
| 1004E-B2-J | Explosion-proof pressure switch, adj. range 10-70 psig (.69-4.8 bar), approx. deadband (fixed) 5 psig (.34 bar). |
| 1005E-B2-J | Explosion-proof pressure switch, adj. range 25-200 psig (1.7-13.8 bar), approx. deadband (fixed) 10 psig (.69 bar). |
| 1006E-B2-J | Explosion-proof pressure switch, adj. range 50-350 psig (3.5-24.1 bar), approx. deadband (fixed) 18 psig (1.2 bar). |
| 1007E-B2-J | Explosion-proof pressure switch, adj. range 75-550 psig (5.2-37.9 bar), approx. deadband (fixed) 36 psig (2.5 bar). |
| 1008E-B2-J | Explosion-proof pressure switch, adj. range 100-900 psig (6.9-62.1 bar), approx. deadband (fixed) 60 psig (4.1 bar). |
| 1009E-B2-J | Explosion-proof pressure switch, adj. range 200-1400 psig (13.8-96.5 bar), approx. deadband (fixed) 90 psig (6.2 bar). |
Available Downloads
Download Catalog Cut Sheet