Series DF8 MERV 8 Pleated Filter
Moisture Resistant Frame and Synthetic Media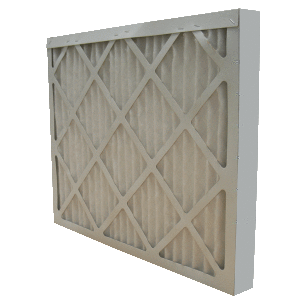 The Dwyer Series DF8 MERV 8 Pleated Filters are designed for applications requiring higher levels of air filtration such as in the protection of HVAC components from dust/dirt or in the prevention of airborne irritants in sensitive settings. An expanded metal grid on the air exiting side and a die-cut frame provides exceptional strength during both installation and operation. The 100% synthetic media inhibits biological growth and allows for low resistance operation making the DF8 a practical, cost-effective filtration option. The frame is constructed of 100% recyclable moisture resistant paperboard.
Note: Each model includes 6 filters.
Specifications
Service: Air.
Filtration Efficiency: MERV 8.
Temperature Limit: 200°F (93.3°C) continuous operating temperature.
Recommended Final Resistance: 1.0″ w.g.
Features
Low resistance improves air flow and can greatly reduce energy costs
100% recyclable moisture resistant paperboard frame
100% synthetic media inhibits biological growth
MERV 8
Initial resistance of 0.19″ w.g. @ 500 fpm
Includes 6 filters
Download